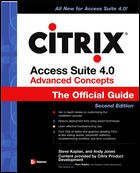 Anthony "Andy" Jones (CCIA, CCEA, CCI, MCSE+I, MCT, MCIW) is an industry expert in Access Infrastructure and technologies surrounding and supporting the solution. He is currently an Area Service Director for , the premier Citrix Platinum reseller in North America, and manages the professional services group for the Ohio Valley. He provides comprehensive solutions focused on Citrix and Microsoft technologies for clients ranging from 50 to 50,000 users, focusing mainly on architecting and deploying Access Infrastructure solutions for enterprise customers. One of Andy's primary focuses is in developing best practices, processes and methodologies surrounding Access Infrastructure that take into consideration and integrates with virtually every part of a customer's infrastructure.
Andy is also a writer and has co-authored Deploying Citrix Metaframe Presentation Server 3.0 with Windows Server 2003 Terminal Services (Syngress). He is also currently working on the second edition of Citrix MetaFrame Access Suite Advanced Concepts: The Official Guide (McGraw-Hill) with Steve Kaplan.
Andy is currently based in Cincinnati, OH, where he lives with his wife and children. He enjoys flying when his schedule permits! You can contact Andy by emailing .
News and Updates
Emails, Questions and Ponderings
Please feel free to continue sending emails with questions, thoughts, feedback and recommendations for articles you would like to see. In the future, your questions may result in an article on the "top 10" queries received or such!
Help Me with My Articles!
If you find a problem, typo, script error, etc., please contact me! I can get this fixed and turned around in short order! Just send them in to ... Thanks!
Citrix Official Access Suite 4.0 Advanced Concepts Guide NEARLY Complete!
The book is in the final stages of preparation… and I can say that after six months of work the book is nearly new from cover to cover! The immense change to the entire suite necessitates the inclusion of this book on EVERY administrator's bookshelf! Look for a Late January 2006 ship date!
Deploying Citrix MetaFrame Presentation Server 3.0 with Windows Server 2003 Terminal Services Available NOW!
For those of you looking for a more entry-level book that outlines the history of Citrix Presentation Server, the configuration and management, look no further than Deploying Citrix MetaFrame Presentation Server 3.0 with Windows Server 2003 Terminal Services. This book is available now and though based on Presentation Server 3.0, contains a wealth of relevant information for any Access Infrastructure Environment!
Upcoming Conferences
Citrix Summit 2006
For those of you that were invited to the partner-only Citrix Summit coming up at the end of January, I will be in the vendor area with Steve Kaplan discussing the Access Suite 4.0 Advanced Concepts guide that will be on sale at the event! Steve and I will be autographing copies and discussing the finer points of Access Infrastructure! Plan to stop by and say hello! The Summit will be at the Swan and Dolphin resort Jan 29th through Feb 1st, 2006. Check out Citrix's SITE for more information!
MTM Road Shows
I frequently present at various MTM road shows and events! Check the for a complete listing of all events nationwide and you can even register for the events directly on the site!